Airventure 2016 begins July 24 at Wittman Field, Oshkosh, Wisconsin. The largest airshow in the world, more than 10,000 aircraft will converge on the historic grounds for the week long aerial exposition. This year the feature attraction will be the Royal Canadian Air Force Snowbirds Air Demonstration Squadron. The Snowbirds, under that name, was founded in 1971, led by O. B. Philip, Commander of CFB Moosjaw in Saskatchewan.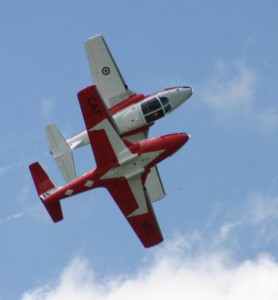 The team's genesis in their familiar white T-144 Tutor trainers, predates that with the commissioning in 1967 of a precision flight team to celebrate the 100th anniversary of Canadian independence. Known as the Centennaires, they flew seven Tutors (sans soloists) along with an F-104 Starfighter, F-101 Voodoo, and T-33 Silver Star. Their six month tour brought them to major cities and airshows throughout Canada and the United States. Greeted as a resounding success by more than five million viewers, a movement was begun to establish a permanent squadron as an aerial ambassador around the world.
Regrouping, to perform at the Saskatchewan Homecoming, the largest single day airshow on the American continent, the team gained greater acclaim, continuing with a limited, but spectacular, show and schedule. Finally, in 1977, the Snowbirds (so named after a public contest was held by Canadian school students) was granted official military designation as the Canadian Forces Air Demonstration Team. A year later, they were elevated to squadron status as the 431st Air Demonstration Squadron, carrying on the traditions of the 431st as a former World War II bomber and F-86 Sabre demonstration unit.
Today, the Snowbirds continue flying the T-144 tutors, with nine aircraft including two soloists in their red bottom and white topped J-85 CAN J4 powered jets. Capable of speeds up to 770 miles per hour (although not at airshows), the nimble 5,000 pound customized trainers perform fifty formations and thrilling maneauvers at more than sixty venues per year. They will make only two Midwest appearances in the United States this year, the first already having taken place in Missouri this past spring.
The Snowbirds return to the central states for two shows at Oshkosh this year, Saturday July 30 and Sunday July 31 for their first performance at Airventure since 1983. They are the Grand Finale to the grandest aviation gathering in the world.